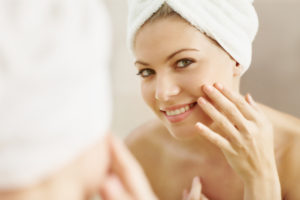 What is Microdermabrasion?
Dr. Kronberg uses the diamond-tip microdermabrasion technique. A machine that uses tips covered in tiny diamonds exfoliates the dead outer layer of the epidermis. The diamond tips, coupled with strong vacuum suction that removes the abraded skin cells, provide a more thorough exfoliation that can safely be used in more delicate areas such as around the eyes and mouth.
What does Microdermabrasion treat?
At Dr. Kronberg's we use diamond microdermabrasion for a variety of skin problems. Microdermabrasion…
Reduces fine lines and wrinkles

Removes sun-damaged skin

Reduces age spots

Reduces melasma

Reduces hyperpigmentation

Improves acne and acne scars

Reduces enlarged pores

Stimulates new collagen production
Benefits of Microdermabrasion
Safe and effective
No pain
No downtime
Improves the color, tone and texture of skin
Would microdermabrasion be right for me?
Unlike more ablative procedures, microdermabrasion can be used on all skin colors and types. It is effective for pigmentation problems and doesn't require any downtime.
What is the procedure like?
Before we begin the procedure, we clean your skin with a special cleansing gel. Our aesthetician slowly moves the diamond-tipped wand across your entire face, instantly vacuuming off the abraded dead skin cells. The degree of exfoliation is determined by the amount of suction employed and the number of passes made over the skin surface. The treatment takes from 20-30 minutes for the face. If you want to treat other areas such as the neck, your session may last up to an hour. Because microdermabrasion only targets the superficial layer of the skin, topical numbing isn't necessary.
When will my results show themselves?
Your skin will look healthier and more vibrant immediately after your session. It's amazing how removing the outer layer of dead skin cells improves your skin's tone. Overall results tend to build with more treatments, as your collagen production accelerates.
How many treatments will I need?
Depending on your skin condition, Dr. Kronberg usually recommends between six and 10 treatments initially, spaced two weeks apart. After that, one session every two or three months keeps your skin looking fresh and vibrant.
What happens after my treatment?
There is no recovery or downtime with microdermabrasion. Your skin may appear as if you have a mild sunburn for the first few hours after treatment, but this passes quickly. For the first 24 hours, your skin may feel dry, as if you've been out in the wind, but applying moisturizer solves that. You should avoid sun exposure for at least a week after your session.
How Long Do Microdermabrasion's Results Last?
Microdermabrasion's results are temporary. To sustain results and/or for continued improvement, microdermabrasion should be repeated at 2- to 4-week intervals.
Schedule a Consultation
If you are interested in a Microdermabrasion treatment and wish to learn more information, Please contact us today at (713)771-8941 to schedule a consultation.