Do you have a double chin? If you're over 40, most of us have one to some degree. It's a combination of the effects of aging, gravity, and a few extra grams of fat here and there. The result is a profile that is less defined than in our younger years. Kybella is now one of the most popular products to correct this problem.
What is Kybella
?
When you think of Kybella, you can basically think of it as deoxycholic acid. Dr. Kronberg injects Kybella in a number of locations under the chin to break down the fat and tighten the profile. Thus far, the FDA has only approved Kybella for treating submental fullness.
How Does Kybella
Work?
Deoxycholic acid is a naturally occurring substance in the human body whose job is to aid in the breakdown and absorption of dietary fat. That's the genius behind Kybella — deoxycholic acid doesn't see a difference between dietary fat and the fat that has taken residence under your chin. When Dr. Kronberg performs Kybella injections under your chin, it breaks down the fat cells and your body flushes them from the system. Once they are gone, your body no longer has the storage mechanism for fat. The fat is gone for good and your profile is strikingly tighter. These changes are permanent as long as you refrain from putting on a good deal of extra weight in the future.
How many
sessions will I need?
The maximum number of Kybella injection sessions is 3, but there isn't a set number. Dr. Kronberg will discuss your goals and how much you want to change your profile and the two of you will decide on a treatment plan. Many patients love their results after just two to four treatments.
Kybella Before and After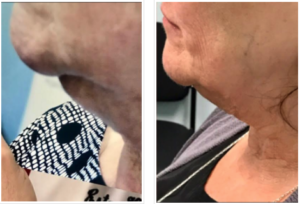 Ideal Candidate for Kybella
Since Kybella works by breaking down fat, it's perfect for people with pockets of fat under their chin. So, if your main reason for your double chin is fat pushing down the skin, Kybella is a great resource. However, if the sagging under your chin is more due to slackening skin rather than fat accumulation, a neck lift or mid-face lift would probably be better options to tighten your profile.
Are Kybella
 Injections Painful?
Dr. Kronberg injects Kybella with a very fine needle, and most patients equate the feeling of the injections to nothing more than a slight pinprick. Still, if you'd like, we can apply topical anesthetic before your session.
How Long Does Kybella Last? 
Kybella gets rid of the fat under your chin permanently, and its removal limits the ability for fat to accumulate in the area down the road. Still, should you put on a good deal of weight you could regain a double chin. There will be some loosening of the skin with aging, but your profile will remain much tighter for the long haul.
What Are the Side Effects with Kybella
?
Kybella does have some potential side effects, but they have proven to be rare. They include nerve injury in the jaw that can create an uneven smile, trouble swallowing, and some weakness in the surrounding facial muscles. In clinical studies these side effects are not long-term but they do not resolve immediately.
Side effects can include the following:
Numbness

Swelling

Redness

Bruising

Residual pain

Areas of hardness in the treatment area
If you're familiar with dermal fillers, these side effects are the same as occur with most fillers. 
What Are the Alternatives to Kybella
?
Kybella is the only non-invasive option for addressing submental fullness and slimming your profile. A neck lift or mid-facelift are surgical alternatives. Liposuction can also be used under the chin.
Schedule a Consultation
If you would like to learn more about Kybella treatment, call (713) 771-8941 to schedule a consultation at our office in Houston.