General Dermatology is referred to the diagnosis and treatment of diseases of skin, hair, nails, acne, rashes, allergies, skin cancer and more.
What is a Dermatologist?
A dermatologist is a physician who is trained to evaluate and treat benign and malignant disorders of the skin, hair, nails. A dermatologist can also help diagnose and treat skin cancer as well as cosmetic issues like hair loss, scar removal and skin changes associated with aging.
What Issues does Dermatology Treat?
Dermatology can treat a wide range of skin problems as well as problems with hair and nails. Most common treatments include but are not limited to:
Acne

Rosacea

Skin Checks

Warts

Hair Loss

Rashes

Eczema

Pre-skin Cancers

Skin cancers and all aspects of skin problems.
Acne
Most patients start with a typical routine of pills and topical treatments. Dr. Kronberg can usually keep it down to $60 to $100 for the initial outlay on medications. Lasers can cost from $250 to $500/treatment, needing 4 to 5 treatments depending on the laser.
Accutane (potential cure of acne) can cost about $2000 to $3000 for the entire 5-month process of taking the medication. This includes the office visit, lab work, and the pills. If you have insurance it should cover Accutane and the lab work. During your consultation, Dr. Kronberg will discuss all the options available to customize a plan for each patient. Click here to learn more about the acne treatment available. 
Rosacea
Acne Rosacea is a form of adult acne. It can appear as red cheeks, pimples broken capillaries and/or a lumpy changing nose. It can have 1 or more parts to be rosacea. The patient commonly flushes, especially with certain triggers.
Common triggers of Rosacea include:
Alcohol consumption

Hot foods or drinks

Spicy food

Stress

Exercise
At our practice, we can treat this with a variety of medications and can also use lasers. This includes special creams, certain antibiotics, and lasers. No one has to suffer from this disorder since it is very treatable.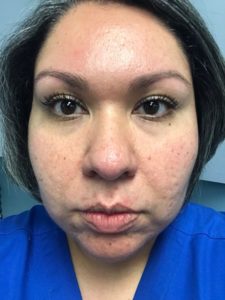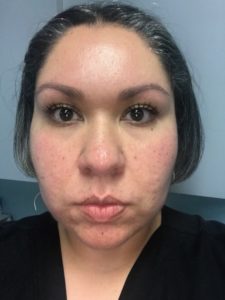 Provided above is a patients before and after photos 4 weeks apart using Heliocare. Heliocare is a pill to fight the ravages of the sun. The feel and texture of her skin has improved. This pill will help get rid of pigmentation such as melasma and sun damage.
Schedule a Consultation
Learn more about the General Dermatology treatments that Dr. Kronberg offers. Call (713) 771-8941 to schedule a consultation at our office in Houston, Texas.