What is Juvéderm
?
Juvéderm is a hyaluronic acid dermal filler. This innovative treatment is one of the latest that dermatological research has to offer. Juvéderm products are a hyaluronic acid (HA) product that comes from sugar. It is actually natural to your body and even found in your body naturally.
One of the best things about this treatment is that it involves using natural ingredients, with impressive results. Not only do you see a vast improvement in wrinkles and fine lines throughout the face and neck, but you won't experience the side effects that other fillers have often been known for. It is also safe for all types of skin.
Juvéderm Products Dr. Kronberg Offers
The following products Dr. Esta Kronberg offers include:
Juvéderm XC

Juvéderm Ultra Plus

Juvéderm Voluma 

Juvéderm Vollure

Juvéderm Volbella 
We offer a variety of the Juvéderm products and customize the form that is best for your needs. Each of these products come with Lidocaine to ensure the patients comfort.
Juvéderm Ultra Plus
Juvéderm Ultra Plus is thicker and more robust. This filler is great to use for deeper areas such as the marionette lines and nasolabial folds.
Juvéderm Volbella XC
Juvéderm Volbella XC is the first FDA approved dermal filler that is proven to increase lip fullness and correct lines around the lips. Results last up to 1 year. Volbella is a great treatment option if you are looking to add contour and subtle volume to your lips.
How Does Juvéderm work?
Juvéderm is injected with a microfine needle into your skin to fill wrinkles or add volume in areas such as frown crease, wrinkles around the mouth, plump the lips among other. The serum fills in these areas, creating a smoother and more refreshed look. It is blended with a small amount of lidocaine to help make the procedure more comfortable.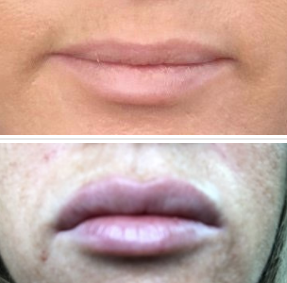 Common Areas for Treatment
Smile lines

Frown crease

Nasolabial folds (lines from nose to mouth)

Wrinkles of the forehead

Wrinkles around the mouth

Lips

Cheeks

Marionette lines
Is Juvéderm Treatment Painful?
We use a very good topical cream that numbs the skin beautifully in 30 minutes. With this, ice packs and sometimes a dental block for the lip lines the patients do beautifully and are very comfortable with the treatment.
Juvéderm Before and After
"People are always surprised at my true age. When asked my secret, I tell them, Dr. Esta Kronberg!!! Her bedside manner is wonderful and her skill is superb! I receive both Juvederm and Botox and she always succeeds….Read More
What to Expect After Juvéderm Treatment
The great thing about Juvéderm injections is that this is a non-surgical treatment, so you can go back to your normal daily activities right after the procedure. Many patients go back to work after the procedure, however you may have mild swelling and bruising for up to three days.
You will see results immediately. The treated areas should look better right away and actually improve a lot more over 3 to 5 days. The product acts like a sponge and absorbs water. So the results gradually improve over a 5 day span.  It is also recommended to not exercise the remainder of the day after a treatment.
How Long Do Juvéderm Results Last?
The Juvéderm products last about 8 months to a year. Thicker Juvéderm Ultra Plus seems to last about a year and the cheek enhancing and tightening Voluma last about 18 months to 2 years.
Juvéderm Side Effects
After treatment you may experience some swelling  and bruising which generally resolves in a couple of days. Proper use of ice and compression may help minimize bruising and swelling. Sleep with a 30-degree angle and avoid sleeping on one side to avoid disturbing the placement of the filler. You may take Tylenol for pain but not aspirin or ibuprofen which may increase bruising. You may also want to avoid Vitamin E and fish oil to minimize complications. Here are some of the most common side effects after treatment:
Redness

Pain/tenderness

Firmness

Swelling

Lumps/bumps

Bruising

Itching

Discoloration

As with all skin injection procedures, there is a risk of infection.
How Much Does Juvéderm Cost?
The average 1 cc syringe costs $650 and ½ cc syringes are approximately $450. 1cc Syringe of Voluma is $1000.
Schedule a Consultation
If you live in Houston, Juvéderm injectable gel is available at the office of Esta Kronberg, MD. We use state-of-the-art technology, and here you will always be treated with the courtesy and professionalism you deserve. Call us today at (713) 771-8941 to schedule your consultation, Your satisfaction is our goal!