What Is Sculptra?
Sculptra® Aesthetic is a new type of facial injectable made from poly-L-lactic acid, which replaces lost collagen. The main ingredient is a biocompatible, biodegradable synthetic material that has been used by physicians for decades.
What makes Sculptra different compared to other facial injectables?
Sculptra is an injectable that is capable of stimulating collagen synthesis, resulting in a gradual change that lasts up to 2 years. Traditional dermal fillers work immediately by binding to water molecules in subcutaneous tissue. Results can last 1 to 2 years. Botox is also a common injectable treatment for wrinkle-reduction. This injectable works by decreasing muscle movement in a safe, controlled manner. Results last approximately 3 months. Each type of injectable used for facial rejuvenation offers unique benefits. Many times, products are combined for maximum effect.
What are the benefits of using Sculptra to reduce wrinkles?
There are several reasons to consider Sculptra for facial rejuvenation. This treatment:
Is minimally invasive. Without anesthetic or incisions, there is no downtime needed to recover from Sculptra treatment. Generally, patients can resume their normal activities immediately after getting injections.
Promotes natural collagen production. Today, collagen supplements are all the rage. Sculptra works at the very spot you want to see improvement. The tiny particles in the cosmetic solution stimulate the cells in the dermis to make more collagen to surround them. The particles dissolve over time, but healthy new collagen remains, firming and plumping the skin.
Offers subtle, gradual improvement. Many people want to look younger without looking like they've had work done. Sculptra is one way to achieve this. The FDA-approved injectable works with the body to gradually form new collagen for thicker, younger-looking skin.
Achieves lasting results. A series of Sculptra injections achieve noticeable improvements that can last up to 2 years.
What Areas Does Sculptra Correct?
It helps correct the following areas:
Shallow to deep facial wrinkles.
Folds that appear with aging.
Chin wrinkles.
Who is a candidate for Sculptra?
Sculptra is frequently used to lift and contour the cheeks, define the jaw, and increase volume in hollows like the temples. Good candidates are healthy adults who are interested in restoring volume to areas of the face that are naturally hollow or have become so due to weight loss or aging. Sculptra helps the body create its own collagen and is considered a semi-permanent filler.
If you are interested in seeing immediate results from cosmetic treatment, Sculptra may not be ideal for you. If, however, you want to look like you're aging backward, this treatment is the way to do it. Sculptra is not appropriate for people with autoimmune disorders, a history of keloid scars, or who are pregnant or breastfeeding.
How do Sculptra treatments work?
Sculptra deposits Poly-L-Lactic Acid crystals deep beneath the skin to stimulate collagen synthesis. The treatment protocol occurs over several weeks and includes multiple sessions. This is done to maintain stimulation in the dermis for a prolonged period, rebuilding the support structure beneath the skin.
Patient Testimonial
"I have been seeing Dr. Kronberg for 20 years. Outstanding doctor… the staff is understanding and so very sweet. Dr. Kronberg are the very best." – D.M.
"I have been fortunate to be a patient of Dr. Kronberg for almost 25 plus years. She has always been the doctor with the latest cutting edge technology. She is highly educated in her field . Her bedside manner is amazing." – A.D.
"I love Dr. Kronberg. They took their time in my consultation and also heard all i had to say! Great Dr. I defenely recommend her" – R.M.
Sculptra Before and After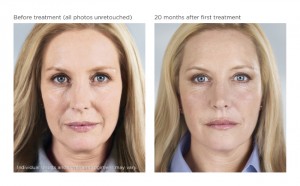 Click to view more Before and After photos >>
How long does a Sculptra treatment session take?
Sculptra treatment is similar to other injectables in terms of appointment time. Your first appointment includes a consultation that allows us to understand your needs and expectations. Treatment can take place immediately after the consultation. The injections take only a few minutes, after which patients can return to work or other activities.
Will I Need More Than One Treatment?
For a full treatment of Sculptra® Aesthetic, an average of three injection sessions by Dr. Kronberg over a few months is recommended.
What Results Can I Expect from Sculptra?
This product is not an overnight miracle. It is long-lasting. Sculptra is the first facial injectable that gives you subtle results over time. It is a gradual response to building your own collagen. It replaces lost collagen.
How Long Does Sculptra Last?
Sculptra® gives you a more natural-looking appearance, without the obvious enhancement that certain fillers have. A full treatment of Sculptra can last more than two years. Then more treatments will be required to maintain the desired look.
Are There Side Effects to Sculptra Treatment?
Sculptra injections may result in minor redness, tenderness swelling, and bruising. Some patients may experience itching or pinpoint bleeding. Lumps may also occur under the skin. Patients are advised to massage the treatment area for 5 minutes, 5 times a day for 5 days as a strategy to prevent this potential side effect.
Schedule A Consultation
Are you noticing a loss in collagen? Sculptra could be the right dermal filler to help improve this. Call our Houston, TX office at 713-771-8941 or 713-988-8442 today to schedule an appointment.