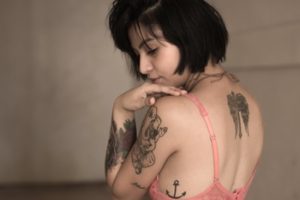 What Is Laser Tattoo Removal?
Tattoos no longer have to be permanent. Intense, fast-pulse Q-switched lasers can remove or significantly lighten a tattoo by training pulsing light on the tattoo's ink particles. This converts the energy to heat and breaks up into tiny pieces that are absorbed harmlessly by the body, without any damage to surrounding tissue. As a result, the light shatters the pigment to get rid of the color.
Dr. Esta Kronberg donates time and personal expense to help the Houston Police Department and Harris County get kids out of gangs by removing their tattoos.
Who Is an Ideal Candidate?
Ideal candidates for laser tattoo removal are typically fair-skinned, and have tattoos that are on areas, such as the arms, legs, buttocks or chest, that have a greater concentration of body fat. Prior to laser, techniques for removing tattoos included dermabrasion, cryosurgery and surgical excision.
How Laser Tattoo Removal Works
A few hours before the laser tattoo removal procedure begins, it is recommended that acetaminophen be taken to help minimize discomfort. A topical anesthetic is applied to the skin; in some instances, a cooling system is used before, during and after the procedure to help with discomfort. The tattoo removal specialist then tests the skin's response to the laser to determine the most effective approach.
How Long Does a Laser Tattoo Removal Procedure Take?
Each laser tattoo removal session lasts only a few minutes and, at the end of each session, the tattoo is iced for about 30 minutes. A topical antibiotic and a bandage are then applied.

How Many Sessions Will It Take to Remove a Tattoo?
Depending on the complexity of the tattoo, removal results vary. To remove a tattoo completely, it can take anywhere from 6 to 10 treatments. Simple tattoos may be eliminated within 4 sessions, while the more complicated tattoos may require 10 or more. Each treatment session can be done 1 to 2 months apart. During your consultation with Dr. Kronberg, she will examine your tattoo and discuss the treatment plan to remove the tattoo completely. Provided below are the tattoo removal results after 2 sessions.
---
See What Our Patients are Saying
"Dr. Kronberg is simply the best in her field! She's the total package having wonderful bedside manners, a high degree of knowledge, and providing gentle, caring service."

To read more reviews, click below!

https://estakronbergmd.com/testimonials
---
Tattoo Removal Before and After Photos
View More Before and After Photos
---
What Should I Do After a Laser Tattoo Removal Treatment?
Patients are advised to keep the skin around the tattooed area dry and to treat it as if it were sunburned.
Tattoo Removal Side Effects
Although laser tattoo removal side effects rarely occur, there are a few to be aware of. Side effects may include:
Hyperpigmentation/Hypopigmentation

Swelling

Scabbing

Blistering

Infection 

Itching

Scarring
Schedule Your Laser Tattoo Removal Consultation In Houston!
Do you have a tattoo you've been wanting to get rid of? To schedule a consultation call 713-988-8442.