Everyone knows bacteria are the culprits behind acne. And most aggressive treatments now require the use of strong chemical or antibiotics to kill those bacteria. But Dr. Kronberg is now offering the Omnilux® Blue and Red Light treatment acne. This treatment kills the Priopioni bacteria that cause acne; it also shrinks the sebaceous glands.
Two methods
Dr. Kronberg offers two ways to utilize the Omnilux treatment.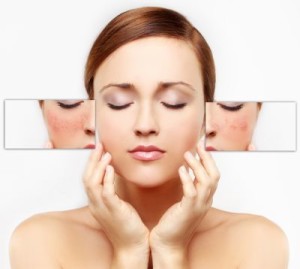 Method 1:
2 treatments/week for 4-6 weeks
Treatments last 20 minutes
Painless and non-invasive
No downtime
No oral antibiotics
Treats moderate inflammatory acne
Acne usually resolves for one year
Method 2:
Uses the light treatment along with photodynamic therapy
Patient's skin is painted with Levulan™ and is then treated with light
Uses the 2-3 treatments, one month apart
Skin will be light sensitive for two days
Acne usually resolves for one year
How Does Omnilux Blue and Red Light Phototherapy work?
This new acne treatment uses intense light with a particular wavelength to destroy the bacteria associated with acne. Depending on the depth of your acne lesions, and your medication history, Dr. Kronberg will use either blue light or red light phototherapy. Painless, heat-free light is delivered through LEDs to the target area.
Interested in addressing your child's acne without dangerous chemicals or aggressive antibiotics? Call Dr. Kronberg at 713-771-8941 for an appointment today.