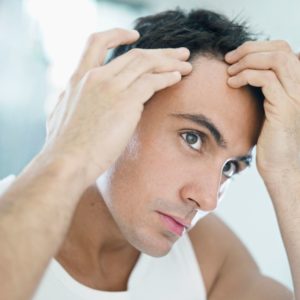 Losing your hair is a depressing process. Every time you take a shower there seem to be a few more hairs in the drain than the day before. You know what the future holds, thinning and more thinning. And this is a problem for both men and women.
That's why we've recently added hair restoration to our cosmetic and clinical dermatology services at DermSurgery Associates. Dr. Zhang performs these state-of-the-art procedures using automated follicular unit extraction. It's called SmartGraft and our patients are thrilled to be able to regrow their own hair with these procedures.
In the SmartGraft system, individual hair follicles are removed from the back of the head, where the hair is not susceptible to pattern baldness, and those follicles are transplanted into the thinning areas. These transplanted follicles then naturally return hair growth to areas where more and more follicles have gone dormant.
How is SmartGraft done?
The first step is to shave the back of the patient's head where the hair is still actively growing. Dr. Zhang then topically numbs the area. Now the SmartGraft Automated Hair Transplantation system comes into play. She takes the SmartGraft handpiece and places the tip on the hair follicle. The handpiece uses a gentle pneumatic process to extract the entire hair follicle. The follicle is then pulled up into the storage chamber in the handpiece, where all the follicles received occasional light misting with saline solution.
Once Dr. Zhang feels she has the number of follicles she needs, she begins to transplant them into the thinning areas. Again, she uses the SmartGraft handpiece — she doesn't touch any of the follicles. This improves the success of the transplantation. The SmartGraft tip makes the holes at the optimum depth and then inserts a hair follicle into each hole.
When will the hair start growing?
Over the next few weeks after your procedure, most of the transplanted hair shafts will fall out. This can seem disturbing, but this doesn't mean the follicles haven't successfully taken to their new locations. It is simply a result of the hair follicle responding to the trauma of the procedure. The follicles settle in and return to the anagen/growth phase of the hair growth cycle. Most of the follicles will begin returning to hair growth in 6-12 months. From there, they should continue to naturally grow hair for the duration, as these follicles are not susceptible to male or female pattern hair loss because they were taken from the back of the scalp.
It's a new year, so why not grow some new hair? Call Dr. Kronberg and Dr. Zhang at (713) 771-8941 and set up a consultation for SmartGraft hair transplantation.