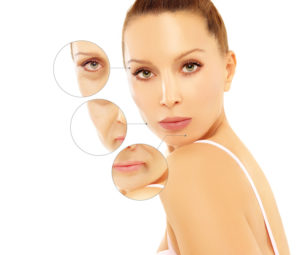 As we age our production of collagen drops one percent every year after the age of 20. That's bogus, and it's the reason our skin becomes saggy and wrinkle prone. The skin loses flexibility and its ability to retain moisture, so it becomes drier and thinner. The harmful UVA and UVB rays in sunlight produce enzymes that break down the skin's supportive structure and prevent formation of new collagen.
It's not a good combination, but Dr. Kronberg offers Omnilux for skin rejuvenation utilizing specific wavelengths of light.
What is Omnilux?
Omnilux delivers a unique method of light-only rejuvenation by alternating wavelengths of 633nm (Omnilux revive) and 830 nm (Omnilux plus). This light treatment improves skin smoothness and reduces periorbital wrinkles. It makes the skin lighter and brighter, reduces pigmentation issues, and improves texture.
How does Omnilux work?
Omnilux revive red light is absorbed in the cellular mitochondria and stimulates vitality. The 633 nm light emitted its absorbed by the fibroblasts, which initiate the production of new collagen. This makes for turnover of aged collagen and elastin fibers from the light stimulation.
The two light wavelengths act together to leave the skin fuller and tighter in appearance. Light stimulated neo-vascularization in the treatment areas also creates greater blood supply to the skin, increased oxygenation and removal of toxins, making the skin glow.
These are the benefits of Omnilux
Reduced pigmentation problems
Better skin texture
Reduces large pores
Tightens the skin
Reduces fine lines and sagging
No downtime
No pain
Continued reduction in facial wrinkles and skin furrows
Safe for all skin types
Afterwards
Your skin will be light sensitive for two days and will have some peeling and redness for three days to a week. But that's about it. As your collagen production increases, your results will continue to build.
Interested in light skin rejuvenation with Omnilux? Call Dr. Kronberg, (713) 771-8941.