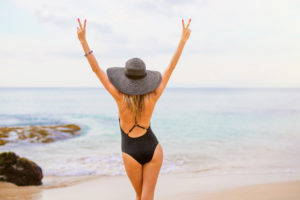 When you go to Central Market and hit the cereal aisle, it's all about shelf space. What used to be just Cheerios is now a seven- or eight-product juggernaut. Where once was just Special K is now a huge line of different flavor options.
It's been somewhat the same with the world's two most popular dermal fillers — Juvéderm and Restylane — although they don't need shelf space. Both just keep adding more and more options to their lines. You can think of their expansion as taking up more shelf space and crowding out your lines and wrinkles.
Restylane® was the original dermal filler, first approved by the FDA for use in the U.S. in 2006. Since then, the line has continued to expand, with different products intended for different areas of the face. Dr. Kronberg offers the complete Restylane line at her Houston dermatology practice.
"Natural" fillers
If you're here hanging out reading Dr. Kronberg's blog, you've no doubt heard of hyaluronic acid. Hyaluronic acid is a naturally occurring substance in the body that is responsible for plumping and firming the skin. It does this by binding with nearby water molecules. Because it is made from hyaluronic acid, Restylane® (and Juvederm) is designated as a "natural" filler. Other fillers such as Sculptra are "synthetic" fillers.
Here are the various Restylane® fillers
The Restylane® line expansion has produced different fillers, each targeted to different specific issues with facial volume.
Restylane® —

This was the first hyaluronic acid dermal filler and is still very popular across the globe. It targets marionette lines, nasolabial folds, and other wrinkles by adding volume beneath the wrinkle or crease and pushing the surface skin upward. Its results last from 6-9 months.
Restylane® Silk — Restylane® Silk is an alternative to Juvéderm Volbella. It is used for subtle lip enhancement and for the correction of vertical lip lines. It provides results for around six months.
Restylane® Lyft — Restylane® Lyft adds volume to the cheeks and corrects smile lines. It is an alternative to Juvéderm®

Voluma. Results last from one year to 18 months.
Restylane® Refyne —Restylane®

Refyne was approved by the FDA in December 2016. This new addition to the Restylane® line (along with Defyne, see below) is used to correct smile (marionette) lines and nasolabial folds. Refyne is specifically formulated to treat mild to moderate lines and wrinkles. Galderma has cross-linked the gel in Restylane

®

Refyne and Defyne to help support the patient's natural expressions — for real-life results that help maintain natural movement when smiling, frowning, or otherwise moving your mouth.
Approved along with Refyne, Defyne also specifically targets nasolabial folds and marionette lines. The difference is that Defyne is designed for use on moderate to severe creases and lines. Both Refyne and Defyne provide results that last up to one year.
With all the Restylane options, there's surely somewhere you could use a little volume. Call Dr. Kronberg at (713) 771-8941 and let's match you with the right one.