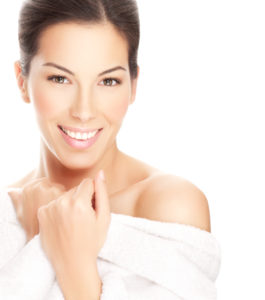 Dr. Kronberg offers the Omnilux system for skin treatment. Instead of lasers of intense pulsed light, Omnilux uses LED technology to counter the effects of sun damage, improve acne, and address other skin issues.
Omnilux is pain-free, non-invasive, and doesn't require any downtime. Here's some more information on this technology.
What is Omnilux?
Omnilux is the leader in non-invasive LED technology. Invented in the United Kingdom in 2003, Omnilux technology has since been validated in over 30 peer-reviewed published studies. It has been clinically proven to stimulate the body's own natural processes to overcome a variety of skin problems.
How does Omnilux work?
Omnilux uses LED energy, whereas other skin rejuvenation systems use laser or ultrasound energy. These other energies can lead to heat damage and often require recovery. Omnilux uses wavelengths of monochromatic light to stimulate specific cells within the body to improve the skin. Omnilux phototherapy stimulates blood flow and the activation of skincare products applied topically. Specific Omnilux wavelengths have been demonstrated to enhance cellular metabolism and cell permeability.
The Omnilux system has different modalities. Dr. Kronberg uses the red light to rejuvenate the skin. She recommends eight treatments over the course of one month.
The Omnilux blue light is used to treat acne vulgaris and sun damage. This light activates the coproporhyrin III that is present in the P.acnes bacteria. It can also be used to activate photosensitizer 5-Aminolevulinic acid for treatment of actinic keratoses. Omnilux's clinical evidence demonstrates up to an 81% clearance of inflammatory lesions 12 weeks after treatment.
Speeding things up
Dr. Kronberg can also speed your treatments with Omnilux. By applying a light-sensitizing solution for 20 minutes prior to your 20-minute session under the Omnilux light, this creates the "red peel." This is a great method to remove actinic keratoses.
If you're interested in what LED technology can do for your skin. Call us at 713-771-8941 and ask about our Omnilux system.