What is Artefill®?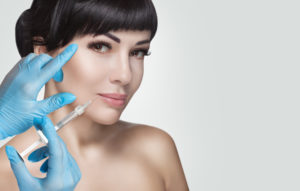 Dermal fillers are commonly used to soften the creases that develop around the nose and mouth. While patients appreciate the effects of products such as Juvederm, Restylane, and Sculptra, some desire longer-lasting results. Artefill provides this.
Artefill is a synthetic dermal filler that is made of bovine collagen and polymethyl methacrylate (PMMA) microspheres. The product has been widely used in Europe and other countries for many years, and here in the U.S. since its FDA approval in 2006.
Contact Us Today For A Consultation
How does Artefill® work?
Each syringe of Artefill is 85% bovine collagen. The remaining percentage consists of PMMA microspheres and a small amount of anesthetic. Over 3 to 6 months, the body absorbs and metabolizes the collagen that has been injected. The PMMA particles, however, do not absorb. They remain beneath the skin and become suspended in new collagen that the body produces naturally. To achieve optimal results, it may be necessary to undergo two or three Artefill treatments over the course of a few months. This deposits the right amount of microspheres into deeper layers of the skin to rebuild a smooth, youthful foundation.
This long-term filler can be used on various parts of the face where volume restoration is needed. FDA approval for Artefill revolves around correcting deeper wrinkles and creases such as nasolabial folds and marionette lines around the mouth. However, many experienced providers use this product to contour the mid-face and lips. In some cases, Artefill may be suitable for addressing cosmetic problems under the eyes, such as deep hollows. Though Botox is a preferred product for frown lines and forehead creases, it may be possible to soften these lines using Artefill as an alternative.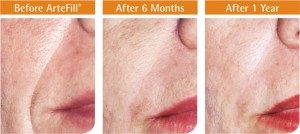 What are the benefits of Artefill® injections?
The primary benefit of Artefill injections is that this filler is also a stimulant. It achieves immediate results that begin to reduce the appearance of deeper lines and creases. It also quickly adds volume to contour areas of the face such as the cheeks. Additionally, Artefill provokes collagen production that rebuilds the scaffold that the skin needs to remain smoother and firmer for a prolonged period.
Who is a candidate for Artefill® injections?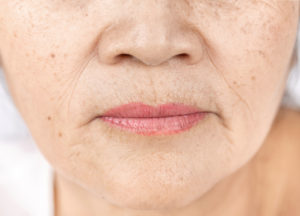 Though patients interested in Artefill need to undergo a skin test to ensure they are not allergic to bovine collagen, many people are good candidates for treatment. If you are concerned with deepening creases around your nose and mouth, changes in the shape of your face hollows at the temples or under the eyes, or aging hands, schedule a consultation to discuss the details of Artefill treatment. Because Artefill is considered a permanent treatment, it is suggested for adults who have already used temporary dermal fillers and are familiar with the results this type of treatment can achieve. If you are interested in obtaining long-term face or hand rejuvenation, talk to Dr. Kronberg about the use of Artefill for your desired outcome.
What are the cons of Artefill® injections?
Studies indicate that Artefill has been successfully used since 2006 with no problem. Adverse reactions are largely prevented by pre-treatment allergy testing. The most common risks of treatment include lumps beneath the skin. To minimize this risk, treatment should only be conducted by a properly trained, an experienced healthcare professional who is familiar with this product.
How long does Artefill® last?
The dermal fillers that are most popular today achieve results that last up to two years at the most. The duration of dermal filler effects can vary from person to person because everyone metabolizes ingredients differently. Artefill is a predictable filler and stimulant because its ingredients do not absorb. The microspheres can remain beneath the skin for up to 5 years.
---
Schedule Your Consultation To Learn more about Artefill®
More patients are interested in restoring a youthful appearance without surgery. At the same time, there is a strong demand for predictable long-term results from nonsurgical facial rejuvenation treatments. We are happy to accommodate patients' preferences for natural-looking results that last. Dr. Kronberg understands the nuances of Artefill and what it can achieve. To learn more about this filler product and what it can do for you, schedule a consultation at (713) 771-8941.