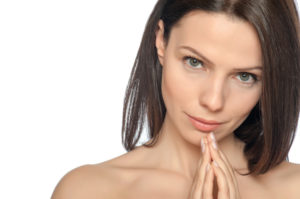 Everyone could use a little exfoliation. Dead skin cells, oils, dirt, fine lines and wrinkles, blemishes — they're all co-existing happily on your epidermis. But if you come in for a microdermabrasion session at Dr. Kronberg's, you can say goodbye to all of those unwanted denizens of your epidermis. Microdermabrasion uses manual exfoliation to remove the outer layer of your skin.
What is microdermabrasion?
Exfoliation occurs naturally, as your body is continually shedding skin cells. But the process isn't always very efficient. To accelerate the process exfoliation has long been an answer. Whether it was using a scrub with pumice in it, dermaplaning, even shaving (that's why women are somewhat jealous that men basically exfoliate their cheeks and chin every day!), the idea is to clear the skin surface.
For a couple decades, microdermabrasion has been done by spraying aluminum oxide crystals onto the surface skin and immediately vacuuming them off, along with the dead skin cells and dirt. Aluminum oxide is the second hardest mineral after diamonds, so it was a good source for the abrading crystals. But recent research is starting to link aluminum used in deodorants with cancer, so there is a push for a new abrading source.
We use a diamond tip wand

That's why Dr. Kronberg uses a diamond-tipped wand instead of aluminum oxide crystals for her microdermabrasion procedures. She believes the diamond-tipped wand has numerous advantages over crystals. First, the patient and the operator don't have to worry about coming in contact with the aluminum. Second, the areas closer to the eyes and mouth can be abraded more accurately with the diamond tip than with crystals.
Otherwise, the process works the same way. There are different coarseness options for different skin types and resurfacing needs. The wand tip is made of natural laser-cut diamond chips that polish the skin and remove dead cells. Everything exfoliated then is vacuumed back off of the skin.
Beyond being more precise, Dr. Kronberg finds that her diamond tip microdermabrasion is less irritating to the patient's skin.
What will microdermabrasion address?
Microdermabrasion reduces the appearance of wrinkles, removes acne scars, clears blackheads, minimizes large pores, reduces sun-damaged skin, and evens out skin tone. It also triggers a boost in collagen production for longer improvement.
Want to have microdermabrasion without the crystals? Call Dr. Kronberg at 713-771-8941 for an appointment.