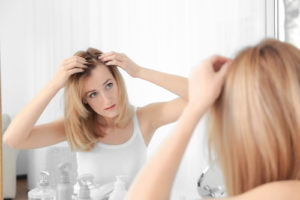 Hair loss can affect everyone, regardless of age or gender. While many at-home options, such as creams and serums, can help slow the progression of hair loss, the aesthetic changes from severe hair loss can begin to impact your self-image and confidence.
While there is no specific cause of hair loss or a cure to stop the progression once it starts, doctors and aestheticians have recently discovered how your own blood can slow the loss and, in some cases, promote new hair to grow.
Along with red and white blood cells and platelets, your blood also contains a liquid called plasma that binds it together. For many years, doctors have separated the platelets and plasma from blood and noticed the healing and growth-promoting quality of the "platelet-rich plasma" (PRP).
Once the PRP is separated from the blood, it is then prepared and reinjected into the body in the areas to be treated. While PRP injections are becoming a common treatment for many joint conditions, recent studies have shown positive results when injected below the scalp.
In a quick, simple, and safe office visit, your doctor will extract a specific amount of your blood and separate the PRP. This is then injected in areas of thinning hair or bald spots. Although each patient responds differently to PRP treatment, many report slowing hair loss with some new hair growth.
One of the best benefits of PRP treatments, compared to other options, is that since the PRP comes from your own body, there are minimal risks of adverse effects or reactions. The most common side effect is a mild irritation at the injection sites that subsides within a few hours or a day after treatment.
If you have thinning hair or growing bald spots that are not responding to other treatment options, contact Board Certified Dermatologist Dr. Esta Kronberg to see if PRP treatments might work for you. Call the office in Houston, TX, at 713-771-8941 or visit www.estakronbergmd.com to schedule a consolation today.