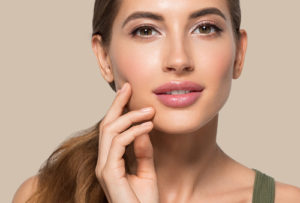 A good skincare regimen using high-quality ingredients is essential to maintaining the healthy skin needed to keep a youthful and radiant look on your face. Even with such care, the effects of aging can become more apparent, and the at-home remedies and treatments may not be enough. In this case, dermal injectables and fillers can be a great option to help slow or reverse the signs of aging.
In general, dermal injectables and fillers fill in lost volume in sunken areas of the face and smooth lines, wrinkles, and creases. Although many of these treatments can address multiple conditions or concerns, each type of filler has a specific issue that may make it a better choice than others.
Fillers that use collagen or hyaluronic acid (HA) can provide great results and smooth creases and lines on the face. JUVÉDERM® is a great option that, with its many formulations, can be used in many areas of the face. The HA used as the base ingredient of JUVÉDERM® pulls in nearby water molecules to plump up the lost volume below the skin.
One of the best characteristics of JUVÉDERM® is the variety of formulations, which, although all use HA, is specifically created to address individual conditions or issues on the face.
As the first FDA-approved dermal filler for increasing the volume of lips, JUVÉDERM® Volbella XC is a unique blend of HA that also helps stimulate elastin and collagen production. In comparison, JUVÉDERM® Voluma is formulated with lidocaine and is best for restoring lost volume in the lips and cheek areas.
Board-certified dermatologist Dr. Esta Kronberg has the experience and knowledge across the entire line of JUVÉDERM® products to develop the perfect treatment plan to help bring all the aesthetic improvements you want.
Whether you are looking for JUVÉDERM® or other aesthetic treatments offered by Dr. Kronberg, call the office in Houston, TX, at 713-771-8941 or visit www.estakronberg.com to schedule a consultation today.