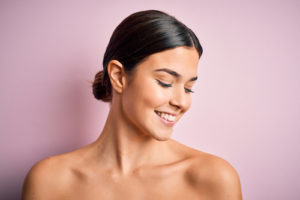 Laser skin treatments are becoming more frequent for treating various skin conditions and achieving aesthetic goals. As the experience of using laser energy in the cosmetic field grows, so does the versatility of what can effectively be treated.
Although many different laser treatment systems are available, their general function and recovery are very similar. The Fraxel system, in particular, is one of the most versatile in that it can treat and help bring the cosmetic results you are after.
By selecting from one of two available wavelengths, Dr. Kronberg can treat pigmentation issues such as sun spots, age spots, or freckles with one and penetrate deeper into the layers of skin for a resurfacing effect. These treatments can be performed in separate appointments or during the same treatment session. Even with both, your entire face can be treated in less than 30 minutes.
Results from a Fraxel treatment generally appear within a week after each appointment. When used to resurface or rejuvenate the skin, the development will continue to improve over 12 weeks or more.
An hour before, a numbing cream is applied to the area to be treated to reduce or eliminate any mild pain. Most patients say the laser feels like a very short prickly sensation or a feeling of warmth. Both are extremely short and disappear immediately when the treatment stops. Best of all, both the treatments and the recovery are virtually painless.
Recovery from laser treatments is also easy and generally pain-free. Although there may be some redness and swelling, these will fade after a few days. After the first week, the top layer of the skin will darken slightly before peeling off. This is normal and will reveal healthy and rejuvenated skin underneath. In general, your skin will feel like a minor sunburn and will heal in the same way.
If you are interested in learning more about laser skin treatments and recovery, call Dr. Kronberg in Houston, TX, for a comprehensive consultation. The expert staff will answer your questions about laser treatments and other options to help meet all your aesthetic goals. Call the office at 713-771-8941, or visit www.estakronberg.com.