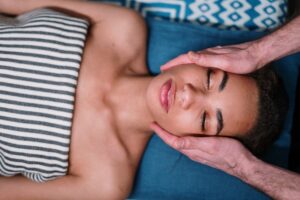 As we grow older, our skin starts to show signs of aging. If you want to improve your skin's quality and appearance, a Fraxel® skin resurfacing treatment may be the perfect option! Dr. Esta Kronberg has extensive experience helping patients in the Houston, TX, area improve their skin, and she can help with your skin resurfacing needs!
What Does Fraxel® Treat?
Fraxel® laser skin resurfacing treats various skin conditions individuals suffer from. When you go in for treatment, the treatment that you receive will be completely customized to address conditions that are of concern to you. Individuals can use this treatment to address various concerns, including:
Textural irregularities on their skin
Wrinkles and fine lines on their faces
Sunspots and lightened age spots
Hyperpigmentation and diminished melasma
Surgical scars
Acne scarring
How Does Fraxel® Work?
The process itself is used to stimulate the production of new and healthy skin by creating micro-injuries deep beneath the skin's surface with a unique fractional laser technology.
After your procedure, as your skin begins to heal, the channels will repair themselves by creating healthy skin and new collagen. Smoothed and toned skin will replace various imperfections, making a more youthful appearance.
What to Expect During Fraxel® Laser Skin Resurfacing?
During a Fraxel® treatment, Dr. Esta Kronberg will use a smart scanning handpiece that will apply the correct amount of laser energy to each treatment area. This ensures the results that you receive are consistent. The treatment takes approximately 20 to 30 minutes to complete. Most people remain comfortable during treatment as cool air and a topical anesthetic are applied to the skin surface. In some cases, patients describe feeling a prickling sensation. For those who feel discomfort, an oral sedative may be provided.
During the weeks following treatment, the skill will heal itself and reveal healthier and brighter skin.
Am I a Good Candidate for Fraxel®?
If you are interested in seeing if you are a good candidate for Fraxel®, please contact Dr. Esta Kronberg in Houston, TX, today at (713) 771-8941. You can also fill out our online form to schedule an appointment.