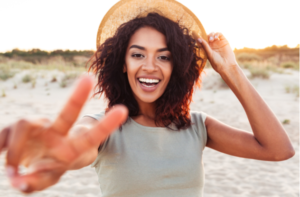 If you're looking for a non-surgical way to enhance the overall look of your skin, Intense Pulsed Light (IPL Photofacial) therapy is one of the latest treatment options to consider. IPL Photofacial treatment is designed to correct your problematic skin condition. This procedure brings out the natural tone, texture, and overall consistency of your skin by stimulating collagen production.
IPL Photofacial is Non-Invasive
IPL Photofacial can improve the look of your skin with little to no recovery downtime. The goal is to turn your mottled skin into a more youthful appearance with a refreshed glow.
Common skin conditions addressed by a 30-minute IPL Photofacial procedure include:
Redness
Red and brown spots
Flushing
Broken capillaries
Acne scarring
Large pores
Wrinkles
Overall skin texture
IPL Photofacial Procedure Basics
Monthly treatment sessions are scheduled on an as-needed basis determined by your individual skin damage needs. You will see results appearing gradually over the weeks following your successive treatments. Skin discoloration and flaws are reduced as the body moderately produces new collagen.
IPL Photofacial procedure basics:
Dark glasses are worn to protect your eyes from light
A cool gel is applied to the target area(s) of skin damage
A hand-held device with a smooth surface is directly applied to the skin as it pulses light
Light is deeply absorbed into the skin
IPL light is absorbed by red blood cells (hemoglobin) and pigmentation (melanin) in the damaged skin area(s)
Damaged melanin is broken up and absorbed by the skin, reducing its outward appearance
Blood flow is stimulated by damaged hemoglobin, allowing for melanin to be absorbed efficiently
Alternative Laser Treatments
Ask Dr. Kronberg about alternative laser treatments specifically designed for sun damage and acne scarring.
Your options for treatment include:
N-Lite™ laser
Regulate™ laser
Fraxel®
Brighten Your Facial Appearance with IPL Photofacial Therapy
IPL Photofacial therapy can help you achieve a youthful and fresh face. You may be a good candidate for IPL Photofacial treatment. Reach out to Esta Kronberg, MD, serving the Houston TX area, and realize the benefits of IPL photofacial. Call 713-771-8941 to schedule your consultation today.