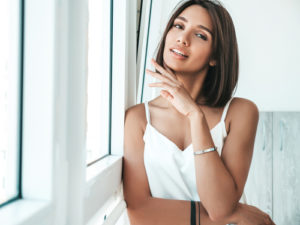 Using a combination of time-tested methods and cutting-edge technology, Dr. Esta Kronberg and her talented and licensed staff are leading the way in cosmetic and general dermatology.
Refresh Your Skin's Appearance with an IPL Photofacial
Red spots are a common complaint, along with skin discoloration caused by the sun and tanning beds. While makeup can hide some skin problems, patients can also turn the clock back with an IPL Photofacial.
The IPL laser is a non-invasive treatment that produces the same results as a medium-depth peel. The primary difference is the lack of any downtown. The treatments are painless and only take between 15 and 30 minutes. You can schedule an appointment on your lunch break.
An IPL Photofacial can also minimize large pores, treat acne scars, and reduce the appearance of fine lines and wrinkles by stimulating the skin's production of collagen.
Minimize the Common Signs of Aging with Fillers and Botox
Fillers like Juvéderm and Restylane are FDA-approved. They are both hyaluronic fillers that are safe for most women and men looking to erase fine lines and wrinkles.
Juvéderm fillers soften the appearance of lines around lips, forehead, and cheeks. Restylane works similarly, except the filler helps lift and plump your skin.
Restylane does produce some redness and swelling at the injection site, but the effects are typically minor. With a Juvéderm treatment, you can go back to your day. The only thing people will notice is your smoother, younger-looking skin.
Botox is another treatment offered that smooths fine lines and wrinkles. The filler can also treat certain medical conditions like migraines and excessive sweating. With one injection, you can start looking and feeling your best.
Show Off Your Legs with Sclerotherapy
Spider veins typically aren't painful, but they can cause you to put away your shorts. Dr. Kronberg has extensive experience in treating small varicose and spider veins using sclerotherapy.
The treatment involves injecting either sodium tetradecyl sulfate or hypertonic solution into the vein. The solution causes the vein to collapse and eventually disappear. It is a safe and effective treatment that is helping women and men show off their legs again.
For your complete dermatology needs, contact Dr. Kronberg. Whether it is a facial, laser treatment, fillers, or sclerotherapy, her expertise ensures you will leave looking your best. Schedule your visit to her office at Memorial Hermann Southwest Medical Plaza 37500 Beechnut St #290 Houston, TX 77074 by calling 713-771-8941.