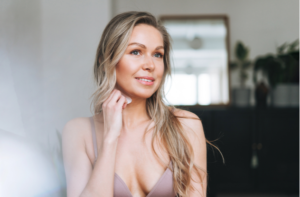 Your chin defines your entire facial profile because it balances, brings uniformity, and blends your appearance. If you are not happy with your chin and believe it is taking away from your facial profile, discover Juvéderm Voluma offered by the skilled services of Dr. Esta Kronberg. This unique non-surgical, injectable gel filler is designed to smoothly define your facial profile from every angle.
A Shapely Chin Can Accentuate Your Facial Profile
In combination with a strong jawline, a shapely chin can have quite an influence on your facial profile. Juvéderm Voluma was the first FDA-approved volumizer designed to add volume to the cheeks. Today, this distinctive gel filler is a popular means of improving the chin profile.
Extra Cosmetic Benefits of Juvéderm Voluma
This injectable gel filler is also used to volumize cheeks and cheekbones. It composes a support structure for your skin because it nourishes elastin and collagen, correcting the loss of volume due to the natural aging process. Juvéderm Voluma smooths the face, leaving a natural-looking contour that can last two years or longer.
Ideal Candidates for a Juvéderm Voluma Chin
Dr. Kronberg is skilled in administering Juvéderm Voluma to add definition to the chin area.
Common concerns of those desiring a non-surgical chin augmentation include:
Recessed Chin. Also known as an under-projected chin or recessed chin, this look can make your jawline appear weak.
Aging Chin. This look causes wrinkling around the jowls and lips, also known as marionette lines.
Cleft Chin. This is the look known as the butt chin, having a deep central groove or dimple in the front of the chin.
What to Expect During Your Chin Procedure
As an experienced cosmetic dermatologist, Dr. Kronberg will begin by disinfecting targeted sites on and around the chin area to be treated. Then, she will apply a topical anesthetic (lidocaine) to ease any discomfort experienced during the procedure. Finally, Dr. Kronberg will inject Juvéderm Voluma dermal filler into the pinpointed areas of concern.
You may notice a dramatic improvement right after treatment and, since this is a non-invasive procedure, you can return to your normal daily activities. Dr. Kronberg recommends against participating in any strenuous activities during the first 24 hours after treatment.
Enhance Your Chin Profile From Every Angle
Live your best life free from being self-conscious about the appearance of your chin. Reach out to Esta Kronberg, MD, serving the Houston TX area, and realize the benefits of Juvéderm Voluma. Call 713-771-8941 to schedule your consultation today.