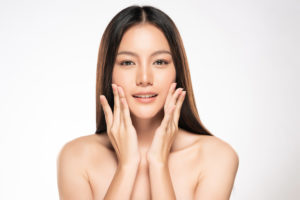 When it comes to the signs of aging, everyone always thinks of wrinkles, but volume loss could be more of a concern. As our bodies produce less and less collagen — 30 percent less from our 20th to 50th birthdays — our skin has less of the structural support it needs. Plus, throw in sun damage from our sunny Texas skies and the combination is easy to see: hollow cheeks, sagging skin, thinning lips, and other volume issues.
To fight back Dr. Kronberg offers various dermal fillers, including the entire Juvéderm® line, for our patients from Houston and the surrounding areas. Even though this holiday season won't be the party free-for-all of a normal year, odds are we'll still see at least our extended families, and we all want to look our best and erase a wrinkle or crease here or there.
To that end, here's what you can expect from the five Juvéderm® fillers Dr. Kronberg offers.
What is Juvéderm®?
If you're checking out this blog, odds are you've probably heard of Juvéderm®. It, along with Restylane, are the world's two most popular dermal fillers. Both are hyaluronic acid-based fillers. Hyaluronic acid is a naturally occurring substance in the bodies of humans (and most other mammals) that is responsible for binding with water molecules under the skin to hydrate, plump, and firm the skin.
What do the different Juvéderm® fillers address?
Parentheses have their place to denote an aside in a Shakespeare play, but they're an unwelcome denizen on your face. Parentheses lines are the lines that form on each side of your mouth. And then you have the creases on the side of the nose that extend to the corners of the mouth, smile lines. You hear about all sorts of "anti-aging" serums and creams, but they only moisturize the skin's surface. Juvéderm® XC adds volume beneath the skin to smooth these lines and folds.
Dr. Kronberg may call it "age-related midface volume loss;" you call it hollow, sagging cheeks. Over time as you lose the collagen to support your skin and as your underlying muscles weaken, your cheeks flatten. Juvéderm® Voluma XC is designed to add volume beneath the skin's surface to lift and contour the cheek area. Plump cheeks are generally considered to be a tenet of a younger look.
You may not think about your lips with facial aging, but our lips lose volume just like everywhere else. They become thinner and flatter as we get older. Plus, some women just have thin lips. Juvéderm® Ultra XC is designed to plump thin lips.
Whereas Ultra XC adds visible (you could say obvious) fullness and plumps thin lips, Volbella XC was formulated to offer more subtle changes, adding volume to the lips and smooth the appearance of vertical lip lines.
The latest addition to the Juvéderm family in 2017, Vollure is intended for treating moderate to deep facial creases, especially nasolabial creases.
How long does Juvéderm® last?
The longest lasting Juvéderm® product is Voluma, which restores cheek volume for up to two years. Otherwise, Volbella, Ultra, and Juvéderm® generally last around one year.
When addressing the signs of aging, volume support is every bit as important as addressing wrinkles. Call Dr. Kronberg at (713) 771-8941 and ask about our Juvéderm® options.