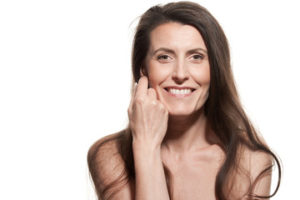 People usually associate wrinkles as the most noticeable sign of aging, but that's not what people actually see. Try it yourself — put a photo when you were 20 next to a photo when you turned 45 or 50. It's not the wrinkles that jump out; it's the volume loss. Your cheeks look flatter, your skin seems to have loosened, and your lips look thinner.
Two things are at work. Collagen loss and simple aging. As we age, our collagen production drops every year, and since collagen is responsible for supporting our skin, volume loss is the result. As for gravity, the constant downward pull, coupled with weakening support muscles and tissue, make the skin sag.
Dermal fillers replace some of that lost volume. Dr. Kronberg offers a variety of dermal fillers including four products in the Juvéderm® family: Juvéderm® XC, Juvéderm® Voluma XC, Juvéderm® Ultra XC, and Juvéderm® Volbella XC. Each is intended to address a different area of the face and replace decreased volume.
What is Juvéderm®?
All the Juvéderm® fillers are hyaluronic acid based. Hyaluronic acid is a naturally occurring substance in the body whose job is to hydrate and plump the skin. For this reason Juvéderm® is classified as a naturally derived filler, versus other "synthetic" fillers. When injected, Juvéderm® binds with water molecules in the area to firm the skin, add volume, and fill wrinkles.
What do the different Juvederm fillers address?
Parentheses are useful for noting an aside in your writing, but they're unwelcome on your face. As the skin loses elasticity and moisture, some people form relatively deep parentheses lines and wrinkles around the nose and mouth. These are also referred to as nasolabial folds. You hear about all sorts of "anti-aging" serums and creams, but they only moisturize the skin's surface. Juvéderm® XC adds volume beneath the skin to smooth these lines and folds.
Experts call it "age-related midface volume loss." You call it sagging cheeks. Over time as you lose the collagen to support your skin and as your underlying muscles weaken, your cheeks flatten. Juvéderm® Voluma XC is designed to add volume beneath the skin's surface to lift and contour the cheek area. Plump cheeks are a tenet of a younger look.
You may not think about your lips with facial aging, but our lips thin as we get older, losing the same support as our skin. Other women have never been happy with the fullness of their lips. Juvéderm® Ultra XC is designed to plump the lips.
This Juvederm option is brand new, coming on the market in summer 2016. Whereas Ultra XC adds fullness and plumps thin lips, Volbella XC is tailored to add subtle volume to the lips and smooth the appearance of vertical lip lines.
How long does Juvéderm® last?
All four Juvéderm® formulations are long lasting. Plus, future injections usually need less product to achieve the same results.
Juvéderm®Voluma XC provides the longest-lasting hyaluronic acid filler results, restoring cheek volume for up to two years.
Juvéderm®XC treats the wrinkles and lines around your mouth for up to one year.
Juvéderm®Ultra XC plumps the lips for up to one year, with 78 percent of people treated expressing satisfaction with their lips after one year.
Juvéderm®Volbella XC adds subtle volume for one year, with 80 percent of people treated reporting improved satisfaction with their lips one year after treatment.
Interested in pumping up the volume with one of the Juvederm family of dermal fillers? Call us at 713-771-8941 for an appointment.