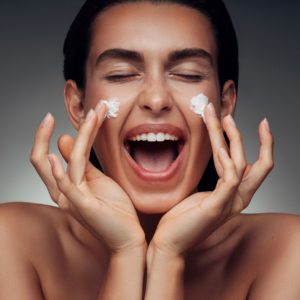 Everyone loves a facial. They feel great and are so relaxing. Plus, they make your skin look refreshed afterwards. This can especially be true during our sultry Houston summers where our skin is more prone to breakouts and the development of whiteheads and blackheads, all thanks to our Amazon-esque humidity.
Dr. Kronberg offers medical cleansing facials that work a little harder for your skin than your run-of-the-mill spa facial.
How is a facial done?
The first step is to discuss your skin issues and what you want to get out of your facial. Once we've established your goals, we'll adapt your facial specifically to your skin and needs. In case you've never had a facial, this is generally what we'll do, but we can vary any part of it. For instance, some people don't like extractions, so we don't include them for those patients. Bottom line — Dr. Kronberg wants you to enjoy your facial, and your skin afterwards. Here are the basic steps:
Cleansing— The first step is a thorough cleansing of your facial skin to remove any makeup.
Skin analysis— Now that your makeup is removed, we examine your skin to determine your skin type (dry, oily, combination, sensitive, or normal) and any skin conditions you have (acne, blackheads, whiteheads, aging, sun damage, dehydration, etc.). This guides us to the appropriate products and treatments we'll use for your facial.
Steam— Next, we want to open your pores and soften your blackheads and whiteheads. To do so we use a special steam machine that directs a thin vapor of warm steam across your face.
Exfoliation— Now we remove dead outer skin cells and skin oils with exfoliation. This may be mechanical exfoliation with a gritty scrub or chemical exfoliation/peel that loosens the bonds between the skin cells. What we use for this step of your facial depends on your skin type.
Extractions— This phase involves the removal of blackheads and whiteheads. As mentioned above, some patients don't want this step.
Facial massage— Your facial skin and facial muscles are massaged, stimulating blood flow.
Facial mask— A mask that matches your skin type is applied.
Final application— The mask is removed and your facial skin lightly cleaned. An application of toner, serums, and moisturizer is the final step.
At the completion of your facial, we'll discuss the issues we found with your skin and different steps or products you may want to consider for your home skin care regimen.
Ready for a facial to get at that oily summer skin? Call Dr. Kronberg at (713) 771-8941 to schedule yours.