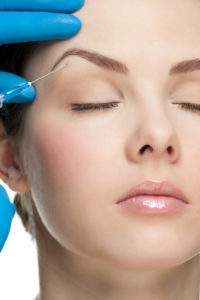 If you want a long-term solution to the stubborn problem of nasolabial folds, you may want to ask Dr. Kronberg about Artefill®. Artefill® is the only filler deemed "permanent," although it isn't actually forever.
What is Artefille made of?
Artefill® is classified as a "synthetic" filler. It is made from synthetic microspheres and bovine collagen. Artefill® contains polymethylmethacrylate (PMMA) microspheres. These synthetic polymer beads are suspended in the cow collagen.
How does Artefill work?
After injection beneath your nasolabial folds, the bovine collagen provides instant filling and softening of the folds. Over time, your body will absorb the bovine collagen. It does not absorb the microspheres, however. They remain in place permanently in the skin. These microspheres trigger a response in the body to produce new collagen and send it to the location of the microspheres. The collagen then encapsulates the PMMA microspheres keeping them in place and filling the fold for years and years.
How long does Artefill last?
Artefill® is a permanent dermal filler that promotes collagen production to fill nasolabial folds. While not actually "permanent," Artefill® will last from 5-7 years and maybe longer. This compares with other dermal fillers such as Juvederm® or Restylane® that usually last just a year or so before another session is necessary. This makes Artefill® more affordable in the long run.
How is Artefill injected?
Because Artefill® contains bovine collagen, Dr. Kronberg first conducts an allergy test before you can have the filler. After the test, the patient waits one month for results, and then can proceed. Injection treatments take just 15-20 minutes. Most patients require two treatments that are scheduled 3-6 weeks apart. Artefill® provides immediate results and then continuing results as the body begins to replace the bovine collagen with newly produced collagen.
Expertise of Dr. Kronberg
Dr. Kronberg is thoroughly knowledgeable about facial anatomy. She first opened her practice in 1985, and she has extensive experience with dermal fillers, including Artefill. This is important because if Artefill® is injected too superficially, granulomas or bumps may develop.
Interested in the longest lasting dermal filler? Call Dr. Kronberg at (713) 771-8941 and ask us about Artefill®.